Making Lights Shine a World Away
AIM Middle and Upper Schoolers experienced first-hand how they can be involved in a grass roots movement and bring light to the world today while building solar-powered lanterns with Liter of Light founder Illac Diaz. AIM is the only Philadelphia area stop on the non-profit's Journey of Light road trip across the United States seeking to show youth how they can contribute to sustainable enterprises and to promote UNESCO's upcoming International Day of Light on May 16, 2018. AIM students in the workshops organized by AIM's Center for Global Leadership cut and bent wires, assembled circuits, soldered metal and connected wires to create the solar lamps and celebrated when their bright lights shined in the dark.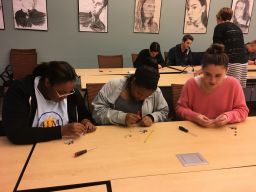 The circuits created today will be taken by the non-profit and used to light street lamps in the Philippines, Diaz explained. He said the workshops at AIM were the most productive day of creating circuits he had experienced on the trip. "They aren't afraid of the technology," he said. "By learning to make the light they become our newest ambassadors for Liter of Light and can bring their knowledge and technology to others."

AIM's Director of the Center for Global Leadership Amy Cline, who invited the group to make this Philadelphia detour, hopes students will continue to construct circuits for lamps after the organization departs.

"Liter of Light's work perfectly aligns with AIM's focus on educating students about global citizenship, global leadership and social sustainability," she said. "I am excited to watch students learn how easy it is for them to contribute to a global endeavor like this and to do so by actually making something with their own hands."